Dr. Vania Gracia is a board-certified acupuncturist and herbalist. After finishing a five-year medical program, she earned her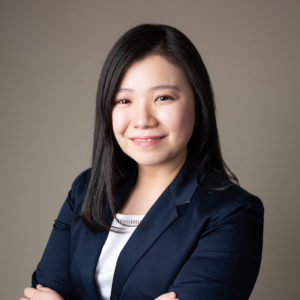 degree of Bachelor of Medicine from Shaanxi University of Chinese Medicine in Shaanxi, China. Dr. Gracia later moved to the United States and obtained her license as an East Asian Medicine Practitioner (EAMP) in Washington state. She attained a doctorate degree in acupuncture and oriental medicine (DAOM) after accomplishing a rigorous two-year program at Bastyr University in Kenmore, WA.
For clinical training, Dr. Gracia finished a one-year medical internship at an Affiliated Hospital of Shaanxi University in China and a two-year doctoral internship at Harborview Medical Center (HMC) in Seattle, WA. During her time in the hospital in China, Dr. Gracia had opportunities to work in different hospital departments including oncology, pediatrics, endocrinology, cardiology, and neurology department. She became deeply passionate about using Eastern medicine wisdom for women's health and fertility support after witnessing a patient's childbirth after long and delicate fertility treatment through the combination of IVF with acupuncture and herbal prescriptions. During her doctoral internship, Dr. Gracia joined the Anesthesia and Pain Medicine team at HMC and provided acupuncture treatment for patients in the hospital who are dealing with pain, such as cancer pain, post-surgical pain, and opioid addictions.
Dr. Gracia is an Indonesian born Chinese. Even though she was raised in Indonesia, Chinese herbal remedy was a significant component for ailments of common illnesses and minor injuries in her household. She became interested in acupuncture after a close family member obtained a notable improvement in his health conditions and pain relief after receiving acupuncture treatments. She was fascinated by the medicine and decided to go to China to pursue a degree in Chinese medicine.
Patient's wellness is the heart of Dr. Gracia's treatment approaches. She applies different modalities of treatment to help her patients, including acupuncture, electro-acupuncture, cold laser, cupping, manual manipulation, kinesio taping, point injection therapy, neuroacupuncture, lifestyle advice, supplements, and herbal prescriptions.
In her free time, Dr. Gracia enjoys reading, biking, hiking, traveling, and gathering with family and friends.
Among many health conditions, Dr. Gracia is passionate in using her expertise and knowledge in Eastern medicine for the treatment of:
– Acute and chronic pain.
– Fertility support and gynecological conditions.
– Neurological conditions: tingling, numbness, post-stroke symptoms, and Parkinson's disease.
– Other health conditions: digestive symptoms, fatigue, insomnia, anxiety, and depression.